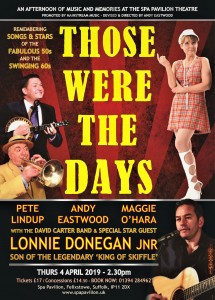 Join us for an unforgettable afternoon of music and memories.
We remember the songs and stars of the fabulous 50's and the swinging 60's with the sensational cast of Those Were the Days.
Starring the international ukulele star ANDY EASTWOOD and very special guest star LONNIE DONEGAN Jnr.
Sing along to all the hits including 'My Old Man's a Dustman' with the son of the legendary king of skiffle.
A matinee show full of nostalgia - Not to be missed...
PARTY BOOKINGS VERY WELCOME
Thursday 4th April 2019 - 2.30pm
Tickets: £17 Adults and £14.50 Concessions
The prices above include all box office and moneyhandling fees and are the total price you will pay