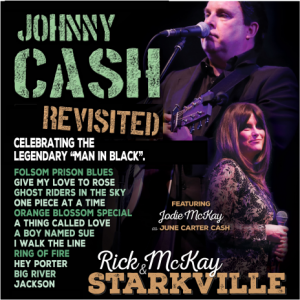 By popular demand, Rick McKay brings the totally authentic Johnny Cash Revisited back to The Spa. Rick and his band perform all the hits live, and in the style intended for them. Jodie McKay co-stars as June Carter Cash.  
WS 'Fluke' Holland, Johnny's drummer in The Tenessee Three and who has played with Starkville, said "Rick McKay and Starkville are doing an excellent job of keeping Johnny's music alive and well in the UK and for that we are extremely grateful".  Dave Roe, bassist with The Tenessee Three also said "I would recommend this show to anyone from die hard old Johnny Cash fans to newcomers who want to hear the real deal".  With such high praise from two original band members, this is a show not to be missed!
Saturday 5th March 2022 - 7.30pm
Tickets: £24 Adults and £22 Children and Concessions.
All prices include our booking fee and are the total you will pay