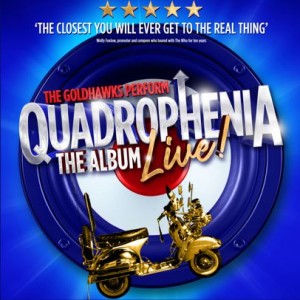 8-piece band The Goldhawks deliver a stunning live performance of The Who's smash hit concept album, Quadrophenia.  
Released over 40 years ago in October 1973, The Who's second rock opera 'Quadrophenia' was Pete Townshend's homage to a pivotal moment in British youth culture. The album tells the story of Jimmy, a Mod, by chronicling his dissatisfaction with life, work, love, home, and family life. It served as an ode to teenage angst and counterculture rebellion, as well as a criticism of the British class, economic and educational systems and is packed with anthemic rock songs.  
Backed with exciting, and sometimes heart-wrenching, large-screen projection of archival footage, the emotions, tension and raw power that the music demands is delivered masterfully by the fabulous, charismatic band, The Goldhawks, with amazing replication of The Who's sound. To send you home on an even bigger high there are a few all-time classic Who hits to close the show!  
"Absolutely first class.....Having toured with The Who for ten years I can safely say that this band is the next best thing and the closest you will ever get to the real thing" – Wolfy Foxlow, close friend of Pete Townshend and Roger Daltrey.   
Website:
www.quadropheniatribute.com
   Video trailer:
https://vimeo.com/246806022
Saturday 8th June 2019 - 7.30pmTickets £25 Adults - £23 Concessions/U16
The prices above include all Booking & Moneyhandling Fees and are the total price you will pay