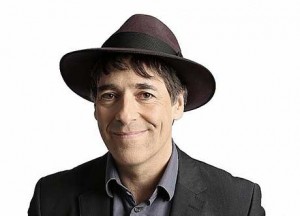 A few years ago, it seemed unlikely that the UK would vote to leave the EU; we had a reasonable opposition to the Tory Government; Donald Trump was a buffoon who surely wasn't going to beat Hillary Clinton and Mark was living the married suburban ideal, since then it's all gone to absolute sh**! But don't worry as Mark thinks Every Little Thing's Gonna Be Alright.  
Mark's sell-out show Who Do I Think I Am, revealed his natural father was a world backgammon champion. Now the star of Radio 4's Mark Steel's in Town, and newspaper columnist of the year is touring a show which is guaranteed to make the world seem even more mental than it is. 
As well as writing and presenting many series of 'Mark Steel's In Town' on BBC Radio 4 (new series out soon) and touring it live around the UK. Mark has presented the BAFTA nominated Mark Steel Lectures for BBC2 and is a regular on BBC One's Have I Got News For You and Radio 4's The News Quiz.  He's also appeared on BBC2's QI and Room 101 and now brings his hilarious new tour to the Spa for one night only!  
*14+ (Parental Guidance) Likely to be swearing and adult content*
The Guardian: *****
The Independent: 'essential viewing'
The Sunday Times: 'Profound yet funny'
Thursday 9th May 2019 - 8pmAll tickets £18
The price above includes a £3 Booking, Ticketing & Moneyhandling Fee and is the total price you will pay