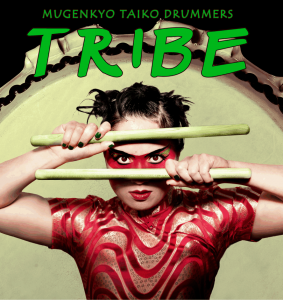 Mugenkyo Taiko Drummers are the UK's first and only professional touring taiko group, and Europe's most established performing company in this fast-expanding field. Through performing over 100 concerts a year, the group have built a solid reputation for their hard-hitting and energetic performances since their establishment in 1994. 
Mugenkyo's main work is touring a full-length concert at theatres and concert halls, including London Queen Elizabeth Hall, Nottingham Royal Concert Hall, Cambridge Corn Exchange, Gateshead Sage, Reading Hexagon, Bristol Colston Hall, Edinburgh Usher Hall, amongst others and we're delighteds to welcome their new show, Tribe, to Felioxstowe. The group has appeared on numerous television and radio programmes worldwide, including the Brit Awards, BBC Last Night of the Proms, the Generation Game and has even featured in a Bollywood film so are guaranteed to rock the audience with their pulsating rhythms.
Mugenkyo present taiko in a modern and theatrical style – with precise choreography, dramatic lighting, and a variety of costumes ranging from the post-apocalyptic industrial to gorgeous earthy silks. The concert is extremely musically varied; powerful rhythms, huge taiko drums, delicate shinobue bamboo flute, expressive percussion, and dance. Through their 21 years of rigorous touring, Mugenkyo have developed a style that is uniquely their own. Retaining the traditional spirit of taiko, yet creating a thoroughly contemporary sound, Mugenkyo are forging a new path with their innovative approach.
Friday 10th May 2019 - 8.00pmTickets £24 Adults and £22 Children/Concessions.
The prices above include all Booking & Moneyhandling Fees and are the total price you will pay