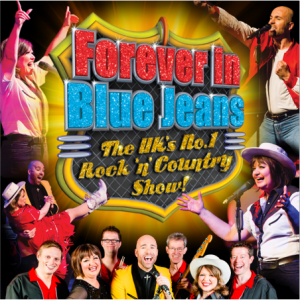 Come and join the greatest party in town as Forever In Blue Jeans celebrates an amazing 24 successful years on tour during 2019.  
A perfect feast of entertainment starring Carole Gordon with terrific singers, dancers and musicians playing the best in Country Music and Rock 'n' Roll. This big hearted show performs songs from Patsy Cline, Elvis Presley, Billy Ray Cyrus, The Mavericks, Tammy Wynette, The Carpenters & Carol King … plus hits from the great Western Musicals such as Oklahoma and Paint Your Wagon … and so many more.
The show wouldn't be complete without the terrific "Red Hot Blue Jeans Band" who perform stunning instrumentals and the show ends with everyone invited to the party for the Grand Finale of the Neil Diamond hit Forever In Blue Jeans.  
Bring the whole family and come and enjoy the liveliest and happiest show of them all FOREVER IN BLUE JEANS where THE STAR OF THE SHOW IS THE SHOW ITSELF!  
See more at www.foreverinbluejeans.co.uk
Sunday 26th May 2019 - 7.30pm
Tickets are £24 Adults and £22 Concessions (+65 or -16).
The prices above include all Booking & Moneyhandling Fees and are the total price you will pay