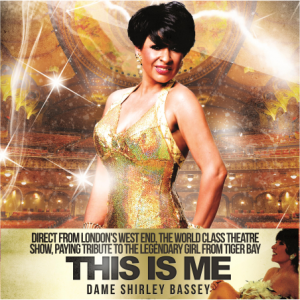 Rachael Roberts stars as Miss Shirley Bassey! Rachael is a trained singer, actress and contemporary dancer based just outside Cardiff, South Wales. Having performed in numerous stage productions in repertory theatre and on the West End fringe, she took on the role of Miss Shirley Bassey, basing her look and style on  the 1970s/1980s era of the legendary performer's famous concerts. She has even performed at a famous venue in the West End where Shirley Bassey appeared.
Rachael studied the younger Dame Shirley's voice, facial expressions, movements, mannerisms and style and is a true impersonator that pays respectful tribute, rather than parody. She is also a lookalike who has wowed audiences with her uncanny resemblance to the young Dame.
With replica and authentic style costumes that are all bespoke made, she looks and sounds just like the real legend. Her attention to detail took her to Australia for a tour with a full symphony orchestra in late 2018. This is truly a world class performer.
Saturday 13th July 2019 - 7.30pm
Tickets are £24 Adults and £22 Concessions (+65 or -16).
The prices above include all Booking & Moneyhandling Fees and are the total price you will pay