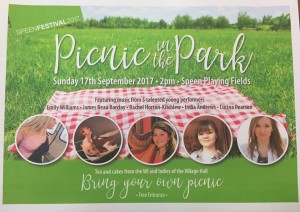 Sunday 17th September 2.00 - 5.30 pm
Bring your own picnic from 2pm. or enjoy the baked delights of the WI 3-4.30 pm, and enjoy live music from:
Lucina Pearson
, singer songwriter plays keyboard currently touring with her launch album "let it out". Her next album is released later this year.
Rachel Horton-Kitchlew
Contemporary Harpist, studies at Goldsmiths University London, has performed by Royal Request, she is classically trained but plays anything from stairway to heaven to Katy Perry.
James Beau Barclay
Studies at Goldsmiths University London, singer songwriter, guitarist and record producer, plays Folk, Jazz, alternative soul. Has played at the Hard Rock café and Bestival recently.
Emily Williams
. Singer songwriter found fame when she got to the Teen Star grand Final at the O2 Arena studied at BGM label's artist development and then at BIMM London, she is currently in the studio producing and shooting her new music video.
Bring your own picnic. Tea and delicious cake from the WI also available.
Did you attend this event? Please give us your feedback by clicking here:
https://www.surveymonkey.co.uk/r/9QQDXKM