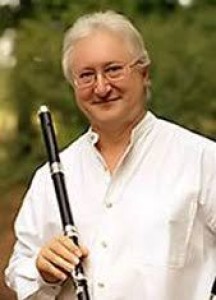 Stephen Preston - baroque flute
Harpsichordist - to be announced
Sonata in e for flute & continuo, BWV 1034
Sonata in C for unaccompanied flute, BWV 1033
Sonata in A for flute & concertante harpsichord, BWV 1032
Partita in a for unaccompanied flute, BWV 1013
Sonata in b for flute & concertante harpsichord, BWV 1030
Of unfailingly remarkable quality, all these works exploit the full potential of an instrument which was only just coming into its own when they were written as it superseded the recorder. The concert will include a selection from the six sonatas and, in addition, the A minor Partita for solo flute.
The English flautist, Stephen Preston, began flute playing in his teens when he bought a fife at a jumble sale and taught himself to play it. He took up the flute to plug a gap in Haberdashers Askes' school orchestra. On leaving school he won a scholarship to the Guildhall School of Music and Drama in London, where he studied with Geoffrey Gilbert.
In the late 1960's he began exploring contemporary music with an ensemble dedicated to the performance of new works by young composers, sponsored by the Arts Council, going on to become the flautist in the Galliard Harpsichord Trio, alongside harpsichordist 
Trevor Pinnock
 and cellist, Anthony Pleeth. The Trio made its London debut in 1966.
The professional success and musical vitality of the Trio helped lay the foundation of Stephen Preston's early career, which took a decisive turn after a chance encounter with an 18th century flute. This, and his proximity to the Carse Collection of Wind Instruments housed at the Horniman Museum in South London, led to Stephen teaching himself to play 18th and 19th century flutes (Baroque and classical flute, then generally known as the flauto traverso), using the method books together with a wide range other historical performance sources. 
During the 1970's, Stephen Preston was invited to become principal flute in all the leading period-instrument ensembles and orchestras in the UK as they were founded, including 
The English Concert
, 
The Academy of Ancient Music
 and 
London Baroque
 to name but a few, with whom he gave many concert tours and made many recordings.
Following twenty years as a choreographer, he has returned to performing, teaching, (at all the major UK conservatories), and research into birdsong.
Saturday 16th May 2020 - 7.30pm
Tickets:
£23.00 / £21.00 / £17.00