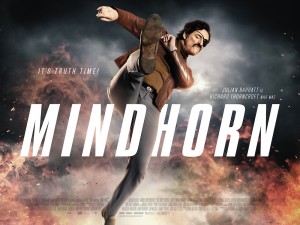 Director: Sean Foley. UK 2017. 89m. Cert 15
Side-splitting comedy makes its way back to SE25 with the critically acclaimed feature Mindhorn.
Barratt (Richard Thorncroft), is a down-and-out actor who starred in the 1980s television show Mindhorn, about a detective with the power to see truth through a cybernetic eye. 25 years later, on the Isle of Man where Mindhorn was filmed, police are on the hunt for Paul Melly, an escaped lunatic wanted for murder. Melly refuses to speak to anyone but his beloved idol - Detective Mindhorn himself.
Fans of The Mighty Boosh, Alan Partridge and other wacky British comedy will not be left disappointed with this homage to bad 70s and 80s television. Features guest appearances from a host of Britain's best talent including Simon Callow, Kenneth Branagh, Steve Coogan and Russell Tovey.
PLUS SHORT:
Mohammed (2014) by Mustapha Kseibati
12-year-old Adam finds his 31-year old, superhero obsessed brother with learning difficulties a nightmare - until he sees a chance to use him to gain friends. Starring Kayvan Novak, Sophie Thompson and introducing Jayden Revri.
20 September 2017, 8pm

Doors: 30 mins prior
Tickets: Advance £8 / Door £10 / Members £5