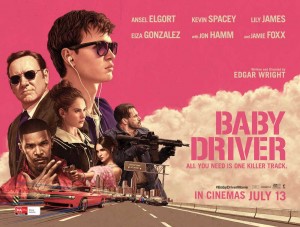 NOTE: We have decided to go ahead with this screening despite recent sexual harrassment revalations about supporting actor Kevin Spacey. Although we outrightly condemn his behaviour, we believe the film deserves to be seen for its artistic merit as a standout British film and to acknowledge the contributions of the other cast and crew members involved.

Edgar Wright. UK / USA 2017. 133 mins. Cert 15

Famed British director Edgar Wright (Shaun of the Dead, Hot Fuzz) takes on Hollywood with his latest glittering thriller Baby Driver. Featuring an all star cast and a solid performance from newcomer Ansel Elgort.

Talented getaway driver Baby (Elgort) relies on the beat of his personal soundtrack to be the best in the game. After meeting the woman of his dreams, Debora (Lily James), he sees a chance to ditch his shady lifestyle and make a clean break. Coerced into working for a crime boss (Kevin Spacey), Baby must face the music as a doomed heist threatens his life, love and freedom.

Baby Driver was met with worldwide critical acclaim and is sure to leave fans of fast paced cinema on the edge of their seats!

We are compiling a collaborative playlist to play before our screening and we want to know what songs get you pumped up! So, what is your killer track? Click here to add your track.

PLUS LOCAL SHORT:

Snug As A Bug by Louise C Galizia (2017 / Cert 15). Mickey and Gav are six floors up with a corpse, a rug that's too small and a van they haven't got. Worse still, they're almost out of air freshener: a pungent comic short with bodies, bowels and bin-bags. Introduced in person by the filmmaker.


15 November 2017, 7.45pm
Doors: 45 mins prior
Tickets: Advance £8 / Door £10 / Members £5
Licensed bar available serving beers, wines, soft drinks and popcorn.