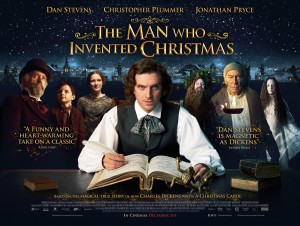 Dir: Bharat Nalluri. Ireland/Canada 2017. 104 mins. Cert: PG

In 1843, Charles Dickens was a struggling literary rock star. After his publishers rejected his pitch for "A Christmas Carol", Dickens declared he would publish it himself. Using real-life inspiration and a vivid imagination, author Dickens brings Ebenezer Scrooge, Tiny Tim and other classic characters to life, changing Christmas into the celebration we know today.

A family fun experience about the most iconic Christmas story ever written and the genius behind its creation.

Directed by esteemed Bharat Nalluri (Miss Pettigrew Lives for a Day, Spooks), The Man Who Invented Christmas stars Dan Stevens (Downton Abbey, Beauty and the Beast) as the iconic Charles Dickens.

Arrive early for a festive selection of eight short films from the BFI and Channel 4's Random Acts. From the comic to the beautiful, these films all have something worth celebrating from the first kiss on film to the pleasures of snow. Spring time lambs and well made clothes. All with a fairytale ending.

20 December 2017

Doors: 7.15pm
Shorts: 7.30pm
Main feature: 7.55pm

Tickets: Standard £8.50 • Concession £7 • Young Adult £5 • Child £4 • £2.50 discount for members (buy membership)
Refreshments: ​Licensed bar available serving beers, wines, soft drinks and snacks.

Plus Bring Along Baby screening at 11am on Thursday 21 December. More info here.