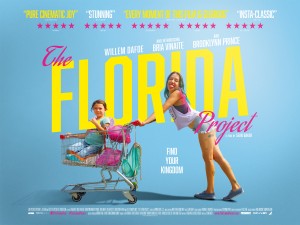 Dir: Sean Baker. USA 2017. 115 mins. Cert 15
Warm, winning, and gloriously alive, Sean Baker's
The Florida Project
is a deeply moving and unforgettably poignant look at childhood.
Set on a stretch of highway just outside the imagined utopia of Disney World, the film follows six-year-old Moonee and her rebellious 22-year-old mother Halley (played by newcomers Brooklynn Prince and Bria Vinai) over the course of a single summer. The two live week to week at "The Magic Castle," a budget hotel managed by Bobby (Willem Dafoe), whose stern exterior hides a deep reservoir of kindness and compassion. Despite her harsh surroundings, Moonee has no trouble making each day a celebration of life, her endless afternoons overflowing with mischief and grand adventure as she and her ragtag playmates fearlessly explore the utterly unique world into which they've been thrown.
"Every moment of this film is glorious"
- ✩✩✩✩✩ The Guardian
PLUS LOCAL SHORT:
Chandra
by Asmita Shrish (2015 / Cert PG). Seven-year-old Chandra walks through earthquake-hit Kathmandu with his grandfather, to visit his mother and newborn sibling in hospital. Chandra is oblivious to the scenes of misery on the streets and is fascinated by the many curious and beautiful sights, excited about meeting his new sibling. What awaits them at the end?
6 December 2017, 7.45pm
Doors: 30 mins prior
Tickets: Standard £8.50
•
Concession £7
•
Young Adult £5
•
£2.50 discount for members (buy membership)
Refreshments: ​Licensed bar available serving beers, wines, soft drinks and snacks.