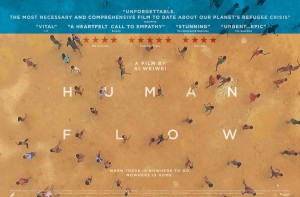 Dir: Ai Wei Wei. Iraq / Germany / Israel / Mexico / Turkey / Jordan / USA 2017. 140 mins. Cert 12A
Ai Weiwei artfully captures the massive and shocking breadth of the global migration crisis in this critical documentary.
Human Flow
portrays the plight of today's 65 million forcibly displaced individuals – the highest number ever – forced out of their homes by war, famine and climate change on long, treacherous journeys in search of new lives.
This is an absolute must-see film, shot over the span of a year by 25 film crews in Afghanistan, Bangladesh, France, Greece, Germany, Hungary, Iraq, Israel, Italy, Jordan, Kenya, Lebanon, Macedonia, Malaysia, Mexico, Pakistan, Palestine, Serbia, Switzerland, Syria, Thailand, and Turkey.
Host in partnership with Croydon-based charity Young Roots.
Young Roots aims to improve the life chances of 11 – 25 year old refugees and asylum seekers in Brent and Croydon, working with them to realise their potential through fun and educational activities, trips and 1-to-1 casework. The charity offers safe spaces for refugees to have fun, develop language skills, learn about the UK, meet others from their country, make new friends from around the world and get advice. Find out more:
youngroots.org.uk
10 January 2018, 7.45pm

Doors: 30 mins prior
Tickets: Standard £8.50
•
Concession £7
•
Young Adult £5
•
£2.50 discount for members (buy membership)