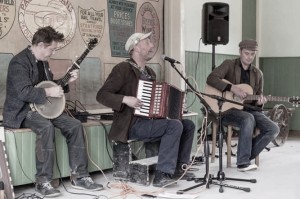 Harp and a Monkey specialise in poignant, humorous and melodic short stories (traditional and original) about life, love and remembrance. Their work has been described as "bold and brilliant" by the likes of The Observer, "fantastic" and "fascinating" by Mark Radcliffe on BBC Radio 2, "inventive" by Mojo, "excellent" by The Guardian, and "rousing" by The Daily Telegraph. 
Their innovative approach has seen them undertake numerous projects with the likes of the Arts Council and leading national galleries and museums, and their show for St Mary's will include an exclusive insight into a new project the outfit have been working on called 'The Victorians' – one that features the folk, music hall, parlour songs and street music of that era and what it can tell us about the people and their lives. The band's singer is an internationally recognised historian.
A firm favourite of folk legend Mike Harding, who gave them their first BBC airplay, Harp and a Monkey have subsequently appeared in-session on 'the Beeb' with the likes of Mark Radcliffe and Clare Balding. Such is the outfit's reputation as a quality live act, they regularly tour the country to huge public and critical acclaim. Previous winners of the 'best band' category in the annual folking.com award, the trio (who have been friends for decades) enjoy a wonderful rapport with their audiences. A truly stimulating and uplifting evening is assured.
Friday 21st June 2019 - 8.00pm
Tickets
£14.00