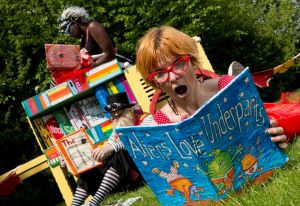 Wiggling their way out of trouble, The Bookworms pop-up to bring their stories to life.
With Rickety book cart and some novel ideas, surprises leap off every page, wherever they roam. Join our funny guides as they worm their way into twisty and fantastic adventures through imaginative worlds, Rhubarb Theatre comes to St Mary's with this fantastical fun show.
Suitable for: ages 5 and up - children and families who enjoy live performance, character interaction, mime, physical theatre, mischief and laughter.
Saturday 12th October 2019 -
10.30am / 12:30pm / 2pm
Tickets
£5.00