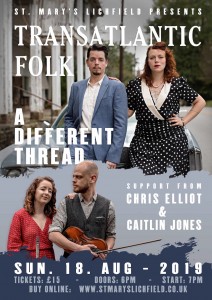 St Mary's Lichfield presents an evening of transatlantic folk music from English/American duo, A Different Thread, with support from Chris Elliot and Caitlin Jones.
A Different Thread is a collaboration between Robert Jackson from Lichfield and Alicia Best from Durham, North Carolina. These two travelling songwriters originally met busking in Ireland in 2016 and have been touring the USA, UK, and beyond, ever since.
Together they deliver a bluesy blend of Beatlesque folk rock meets Gillian Welch dark country. Folk Radio UK described their debut album as "a strong, independent new sound".  Their original songs are inspired by the music that crisscrossed the Atlantic over the generations in true folk fashion. This concert marks the end of their UK tour before they head back to the USA. 
Chris Elliot and Caitlin Jones are a dynamic folk duo based in Lichfield. 
They play traditional and original music inspired by English folk tradition. Expect enchanting harmonies and top class songwriting.
For more from A Different Thread, visit:
www.adifferentthread.com
For more from Chris Elliot and Caitlin Jones visit:
www.chrisandcaitlinmusic.org.uk
Sunday 18th August 2019 - 7pm
(doors open at 6pm)
Tickets
£15.00