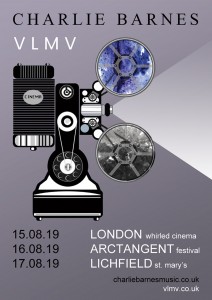 Charlie Barnes
announces
Oceanography
, his second album for Superball Music. In contrast to his previous LP – largely recorded in one place with producer Oceansize guitarist Steve Durose –
Oceanography
is a story of snatched moments after tour rehearsals, late nights spent in far flung studios from Wales to Virginia, ideas sent back and forth over email and put down in fits and starts while on the road. Barnes had consciously decided even before joining Bastille that he wanted to make an album more honed and streamlined, so it is that much of
Oceanography
is built around pop hooks that although vast in sonics are earworm tight in their structure. There is a more consistent palette of sounds used throughout, with songs comfortable in shifting between newer synth explorations and reverting to long-held influences Oceansize and Amplifier – shining particularly prominently on tracks like Ruins and Maria. 
It's a long way from his beginnings as a solo artist, armed with an array of loop pedals, a keyboard and a vocal mic, and thematically
Oceanography
is a record that addresses his inner conflicts as an artist, the idea of making it and what that even means, while at the same dealing in a heavy sense of self-awareness that such inner turmoil pales in the context of wider issues currently facing the world. 
With
Oceanography
, Charlie Barnes gives himself more than a fighting chance. A record of grace and poise amidst the sonic fireworks, it's a testament to the confidence that he has in himself artistically, emerging from the chaos as a stunningly realised piece work. 
VLMV
(pronounced "Alma") released their critically-acclaimed debut on Fierce Panda Records in August 2015, followed by a collection of remixes, and the 2018 album Stranded, Not Lost. Formed by Pete Lambrou and joined by fellow Codes In The Clouds member Ciaran Morahan, the UK-based duo deploy loop stations, delay pedals, piano and strings to create expansive, lush songs described as "quietly epic…like a beam of light through a dark, cold night." (BBC6 Music). The Independent praised the group's debut record, calling it "Breath-taking in its scope…a shimmering soundscape of delicate ethereal beauty."
Saturday 17th August 2019 - 8pm
Tickets
£9