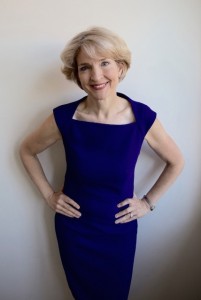 Jane Thynne, author of the Clara Vine espionage series, will be talking about the women who were married to leading men of the Nazi regime. Set against the background of Berlin and Paris, her thrillers feature an Anglo-German actress and British Intelligence agent who treads a dangerous path to penetrate the private life of the Third Reich. The novels explore life for both ordinary and VIP women in Hitler's misogynist and murderous society.
The world is full of books about the leading Nazis, but almost nothing is known about their wives. Yet in many cases these women were an important influence on their husbands. Some of them, like Annelies von Ribbentrop and Lina Heydrich, were considered more Nazi than their men. Others, like Emmy Goering, or Henny, the wife of Baldur von Schirach, actively interceded with their husbands on an occasional basis to save friends. Henny von Schirach actually remonstrated with Hitler over the treatment of Jews in Vienna and was banished from his presence thereafter.
Jane was always fascinated by the Nazi wives, and how it would feel to be married to a man who perpetrated atrocities.  These women were close up to the action and privy to all the feuds and gossip, of which there were plenty in the Third Reich. Beneath every history is another history, and she wanted to re-appropriate the stories of those women who have, until now, been largely hidden. To unearth the female half of history.
Series
Clara Vine
1. Black Roses (2013)
2. The Winter Garden (2014)
     aka
Woman in the Shadows
3. A War of Flowers (2014)
     aka
The Scent of Secrets
4. Faith and Beauty (2015)
     aka
The Pursuit of Pearls
5. Solitaire (2016)
The five-book series follows Clara Vine from the moment she steps off a train at Friedrichstrasse station in 1933 at the age of 26, through the mounting tension of the pre-war years and right into Germany at war.
The Clara Vine thrillers are currently being developed as an eight part TV series.
Friday 8th March 2019 - 7.30pm
Tickets
£14.00