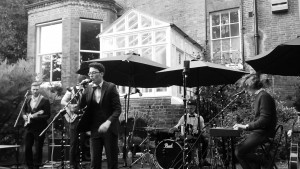 Let Me In Productions presents... Music Through The Decades
After a 12 month break, the band are back together as a five piece, collaborating with leading industry professional lighting and sound designers Anna Reddyhoff and Martin Pritchard. This concert promises to be a night to remember with a celebration of music from the last five decades, a mesmerising lighting design, very special guest appearances, all set within the sensational surroundings of St Mary's. 
A quintet of local musicians will be performing in the stunning new theatre space in the heart of Lichfield. Performing over two nights on the 5-6th April, they will bring the audience with them on a journey through a series of classics and hidden gems of folk, jazz, rock and soul, all portrayed with a distinctly intimate feel. Selections include numbers by Pink Floyd, The Smiths, Radiohead, Jeff Buckley and much, much more.
With music and atmosphere, perfect for all tastes and generations, this promises to be a musical evening for all of the family.
We are delighted to be back, performing in the most beautiful, exciting venue in Lichfield.  
Tom Alderson
- Keys, Acoustic Guitar, Electric Guitar, Vocals
Dan Anketell
- Keys, Acoustic Guitar, Electric Guitar, Viola, Vocals
Chris Buckle
- Lead Vocals, Acoustic Guitar
Lewis Heeley
- Bass Guitar, Double Bass, Vocals
Ben Mott
- Drums, Vocals
Plus very special guests...Friday 5th & Saturday 6th April 2019 - 8pm 
Tickets
£16.00