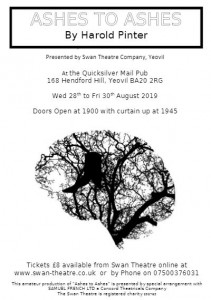 The Swan at The Mail presents a short play by Harold PinterDirected by Ian White
Venue: Quicksilver Mail PH, 168 Hendford Hill, Yeovil, BA20 2RG
Wednesday 28th - Friday 30th August 
Performance starts at 7.45
The Swan Theatre, Yeovil are putting on a performance of this play in part to raise funds for their intended audience improvements at their Park Street Theatre, but also because it is an excellent play seldom done because of its short length.  It deals with the relationship between a young women, Rebecca, and her partner Devlin.  During their conversations she describes things which sound very much like occurrences during the Holocaust (Pinter refers to the play as his Holocaust play) but as ever with Pinter nothing is straightforward.  Did she experience the things she describes?  The date when the play is set is not stated but she is surely too young to have been involved isn't she?  But she has a Jewish name, so it's possible or is this inherited memory?  How does this relate to her relationship with Devlin?  Indeed what is the nature of that relationship?  Come and make up your mind then recharge your glasses and join the discussion session we will have afterwards and explain the whole thing to the cast and Director!  Top quality theatre in a pub.  What's not to love?
Doors open from 7.00, performance starts at 7.45