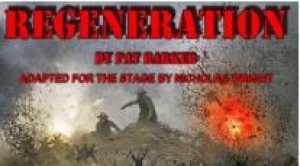 by Pat Barker
Adapted for the stage by Nicholas Wright
Directed by Mark PayneMonday 11th - Saturday 16th November 2019
Show starts at 7:45 pm
Based on Pat Barker's acclaimed novel, this powerful and moving play is set at Craiglockhart Hospital in 1917. Siegfried Sassoon, having published his anti-war declaration is sent to the hospital for the convenience of the army. Here he meets Wilfred Owen and an intense friendship ensues. Captain Rivers, the Chief Medical Officer at the hospital, is faced with shell shocked soldiers whom he must make well again, so they can be sent back to the front in France. Presented at the time of Remembrance Day - this play is a fitting and thought provoking tribute to the men of the Western Front and reminds us of their sacrifice and the futility of war.
Doors open 7:15 pm, show starts 7.45pm.
TICKETS ON SALE TO THE PUBLIC FROM  21st October 2019

Monday's Charity night is in aid of "The Sherborne & Yeovil Link", part of a national organisation - Chernobyl Children's Lifeline - which brings children to England annually for a holiday to improve their health & immune systems. Only 6% of children in Belarus are healthy; children from areas affected by the after effects of the world's worst nuclear disaster are known to suffer a high incidence of birth defects, cardiac problems, cancer of the thyroid and leukaemia. They also suffer financial & social deprivation if their parents are ill & unable to work. "The Link" invites up to 12 children, aged 9-12, to stay with volunteer host families. It raises funds to pay for their flights, visas, minibus hire & fuel & a weekly Activity Programme for the 4 weeks of their stay.