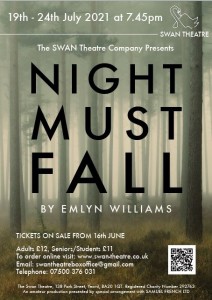 by Emlyn Williams
Directed by Robert Graydon
Monday 19th - Saturday 24th July 2021 at 7.45 pm
This is a classic thriller, first performed in 1935. Dan, a bell hop who arrives at the Bramson bungalow, has already murdered one woman and there is little doubt he will murder another: the aged Mrs Bramson herself. He skilfully insinuates himself into her affections while attempting to seduce her suspicious niece Olivia from exposing his diabolical intentions. And though she professes loathing, Olivia is attracted and fascinated by Dan. Fatally.
Doors open 7.15 pm, show starts 7.45pm.  TICKETS ON SALE NOW
As a result of Government guidance we have restricted the capacity for Night Must Fall to 50% and, due to popular demand, there is now only very limited availability. We are very hopeful that following Govt announcements in the lead up to July 19th we will be able to release more tickets at short notice. If you are unable to book seats and would like to be notified when we release more tickets please click the link   https://forms.gle/fPfLRivgkR9dLssB8 and complete the simple form. 
As a thank you to our members we wish to reserve the Monday performance, the first night of live theatre back in the Swan, for members and partners only. We hope you will join us and celebrate with a glass of bubbly.