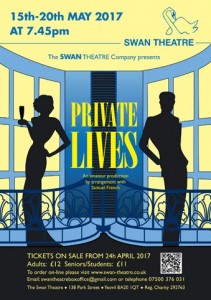 By Noel Coward
Directed by Alan Morris
Monday 15th - Saturday 20th May 2017
Private Lives is a superbly crafted comedy of manners. The humour lies in the situation, the cleverly drawn characters and the easy wit of the lines. It was was first performed in 1930 with Noel Coward and Gertrude Lawrence in the title roles and a young Laurence Olivier playing the main support. The plot is driven by the interactions between two newly married couples, Elyot and Sybil, and Amanda and Victor. The newlyweds find themselves honeymooning in the same hotel in France and sharing a terrace. The problem is that Elyot and Amanda have already been married before - to one another!
Having fallen out with their new spouses, Elyot and Amanda eventually realise that they are still in love with each and run away together to Amanda's flat in Paris. However, as the play progresses it becomes clear that, while they can't be apart, they can't live together either. Small tiffs eventually become a major brawl and by the time that Victor and Sybil arrive at the flat to collect their errant spouses the scene is set for almost any possible outcome.
Doors open 7:15pm, show starts 7:45pm.
TICKETS ON SALE TO THE PUBLIC FROM 24th April 2017

The Labrador Rescue Trust rescues and re-homes Labradors (www.labrador-rescue.com). Volunteer helpers ensure the future of rescued dogs. Many have medical problems; annually a huge amount is expended on veterinary care. With no rescue centre, we rely upon our 100+ helpers to find a dog the best possible home. We do not operate on a 'waiting list' basis, but match the needs of each dog to the home. If one is not immediately available dogs are placed in one of our Foster Homes or in carefully selected commercial kennels, a costly option! Donations are welcomed; covering the costs of veterinary care, kenneling, mileage etc. Our volunteers and supporters do a fabulous job organising fetes, fun days, sponsored walks etc. to raise necessary funds.
Charity tickets only are available from Ann Horrocks tel:01935 423213 email: ann.horrocks@madasafish.com