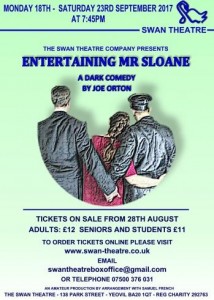 By Joe Orton
Directed by Robert Graydon
Monday 18th - Saturday 23rd September 2017
The September production of this 1964 dark comedy will be the first time one of Joe Orton's works has been presented on the Swan stage. Lauded by Sir Terence Rattigan when first produced as the 'best first play' he'd seen in 'thirty odd years', it will give our audiences a snapshot of 1960s Britain and some of the ways in which a lack of acceptance and empathy affected people who - for whatever reason - did not conform to the social conventions of the time. In particular; those members of society damaged early in their lives who - in order to cope with adult life - ended up preying on the goodwill and vulnerability of others. Manipulation, jealousy, murder, the shame of unmarried motherhood, the frustrations of illegal homosexuality and a chilling failure to nurture children in care are some of the themes in this play. Orton knits them all together with wit and his typical sharpness for social commentary.
Heavy stuff, then? Not convinced this is a comedy? So come along to the Swan and surprise yourself!
Doors open 7:15pm, show starts 7:45pm.
TICKETS ON SALE TO THE PUBLIC FROM 28th August 2017

The charity performance is on Monday 18th September in aid of Yeovil Heartbeat which is a cardiac support group with the principal aim of maintaining an outpatient cardiac rehabilitation unit at Yeovil District Hospital. Here patients who have suffered a heart attack, have had heart surgery or other heart related conditions can undergo a beneficial and progressive exercise programme under the direction of trained staff.
Tickets (@ £13 to include a glass of wine) can be purchased from Denise Street
email terdenstreet@gmail.com or telephone 01460 75260 or mobile 07834 322090