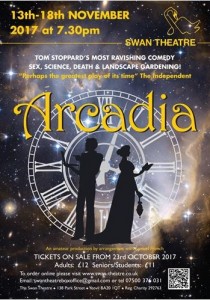 By Tom Stoppard
Directed by Philip Turley
Monday 13th - Saturday 18th November 2017
Show starts at 7:30 pm
A serious comedy about science, sex and landscape gardening.
Cited by many critics as the finest play from one of the most significant contemporary playwrights in the English language, the witty and enchanting ARCADIA is set in an English country house in two time periods, 1809 and present day.
1809: Lust, longing and literary rivalry seize the inhabitants of Sidley Park, a grand house in Derbyshire, where proposals for the remodelling of the landscape are being contemplated. In the midst of this, the teenage Thomasina Coverly is making a scientific discovery that could change the way people understand the world.
The present: Rivalry once again seizes the inhabitants of Sidley Park, as academics Bernard and Hannah compete to unpick the historic secrets of the estate and its earlier occupants. Who was the mysterious hermit? Do the scrawlings in a young lady's notebook show her to be a scientific genius? What - if anything - was Lord Byron up to?
Arcadia is an exuberantly funny, thought-provoking and touching masterpiece which has dazzled audiences from the National Theatre to Broadway.
Doors open 7:00 pm, show starts 7:30pm.
TICKETS ON SALE TO THE PUBLIC FROM 23rd October 2017

Monday's charity night performance is in aid of "The Sherborne & Yeovil Link", part of the national 'Chernobyl Children's Lifeline', which brings children to England for holidays to improve their health and immune systems. Those affected by the after effects of the world's worst nuclear disaster suffer a high incidence of birth defects, cardiac problems and cancer; particularly thyroid and leukaemia. They also suffer from financial and social deprivation if their parents become ill and unable to work. "The Link" invites up to 12 children, aged 9-12, to stay with volunteer host families. It raises funds to pay for their flights, visa's, mini bus hire & fuel and a weekday Activity Programme for the four weeks of their stay. This experience improves the children's immune systems increasing their life expectancy by two years!
Tickets @ £12 can be purchased online or from Ann Horrocks email ann.horrocks@madasafish.com or telephone 07870 826853