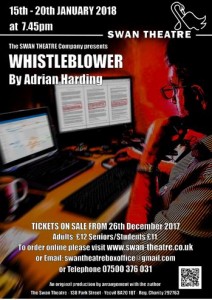 By Adrian Harding
Monday 15th - Saturday 20th January 2018
"Whistleblower" is a whodunit with a twist - there is no murder! It is a story of trust and mistrust, a story about when it is right to be honest and when it is necessary to deceive.
It is 2014, and a UK company is finalising a tender to win a defence contract from a threatened African Republic. If the company can't secure this contract, it may well go bankrupt. The management team has decided that the company has to win the business to secure its future, but can only finalise the deal by making an illegal payment to the key decision maker. How does the company ensure that it wins the business it needs to survive, whilst hiding it's breach of the international business code of ethics? And what other secrets are under wraps at the company? Someone inside the company has blown the whistle to the Serious Fraud Office. With the future of the company in the balance, the beleaguered management team are asking themselves, who would have done this, and why?
"Whistleblower" is the writing debut of Adrian Harding, who has acted on stages in Yeovil and Sherborne for 32 years with the Civic Players, The Swan Theatre and APS.
Doors open 7:15 pm, show starts 7.45pm.
TICKETS ON SALE TO THE PUBLIC FROM Tuesday 26th December 2017

The Charity Night is on Monday 15th January in aid of St. Margaret's Hospice which has been at the heart of Somerset's community for over 35 years, delivering high quality, responsive and compassionate care to patients and their families facing a life-limiting illness. With two hospice sites; one in Yeovil and one in Taunton, as well as five community based teams caring for patients in their own homes, we continually strive to reach everyone in the community that needs our care, often during their precious last days. Charity tickets are available via Ian Williamson tel: 07478 672185 email: idcwilliamson@gmail.com