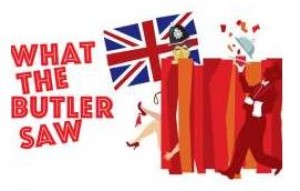 By Joe Orton

Directed by Holly Robson

Monday 7th - Saturday 12th May 2018

'What The Butler Saw' is set in the late 1960's and takes place in a private psychiatric clinic run by Dr Prentice. It opens with the doctor examining Geraldine Barclay in a job interview. As part of the interview, he persuades her to undress. When his wife enters, he attempts to cover up his activity by hiding the girl behind a curtain. His wife, however, is also being seduced and blackmailed by a Nicholas Beckett. She, therefore, promises Nicholas the post as secretary, which adds further confusion and then there's the policeman! And  a government inspection, led by Dr. Rance, which reveals the chaos in the clinic. 
This play is very fast moving and very funny.
Show starts at 7:45 pm
 Doors open 7:15 pm, show starts 7.45pm.
TICKETS ON SALE TO THE PUBLIC FROM  16th April 2018

The Charity Night is on Monday 7th May in aid of the AgustaWestland retirement association which promotes the friendship and wellbeing of its members through regular social meetings and activities. Membership is free and open to any retired employee (together with their spouse or partner and up to two friends) who has achieved 5 years service in any of the Westland Group of companies. For contact details visit our website at www.westlandretirementassociation.org, and see "what's on".
Charity night tickets are available online or via Lesley Nesbitt tel: 07436 013862 email: lesley.218@hotmail.co.uk. All proceeds raised at this charity night will be donated to St. Margaret's Hospice.