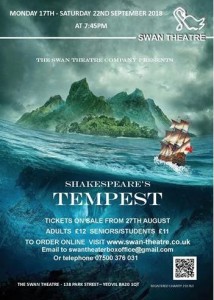 By William Shakespeare
Directed by Ian WhiteMonday 17th - Saturday 22th September 2018
Show starts at 7:45 pm
On a distant island a man waits.
Robbed of his position, power and wealth, his enemies have left him in isolation. But this is no ordinary man, and this no ordinary island. Prospero is a magician, able to control the very elements and bend nature to his will. When a sail appears on the horizon he creates a vast magical storm that wrecks the ship and washes his enemies up on the shore. When they wake they find themselves lost on a fantastical island where nothing is as it seems.
Doors open 7:15 pm, show starts 7.45pm.
TICKETS ON SALE TO THE PUBLIC FROM  27th August 2018

The Charity Night is on Monday 17th September in aid of South Somerset Mind which is an independent mental health charity established in 1985. It is affiliated to national  Mind, although it receives no funding from them.  Each year support and a listening ear is provided to over 3,000 individuals.  The aim is to promote good mental health and wellbeing, encourage greater understanding of mental health issues & provide high standards of care.  One to one support is provided, training courses to help people better manage their lives, & activities in local communities to ease isolation where people can meet new friends & share support.  More information at:  www.southsomersetmind.co.uk or call us on 01935 474875.
Charity night tickets  @ £12 (£11 for concessions) are available online, tel: 01935 474875 or email david.fields@southsomersetmind.co.uk