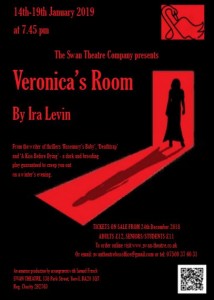 By Ira Levin
Directed by Robert GraydonMonday 14th - Saturday 19th January 2019
Doors open 7:15 pm, show starts 7.45pm.
TICKETS ON SALE TO THE PUBLIC FROM 24th December 2018
A middle-aged couple, Mr and Mrs Mackey, invite a younger couple, Susan and Larry, to the suburban Boston home where they are employed to look after the elderly, senile Cissie. They persuade a reluctant Susan to dress up as Veronica, Cissie's dead sister, in an effort to bring Cissie a sense of closure. The year is 1973, but Cissie believes it to be 1935. Having presented initially as kindly and gentle, once Susan is dressed as Veronica, the older couple become sinister and threatening. They treat her as if she were indeed Veronica, insist that the year is 1935 and that they are her parents and accuse her of murdering Cissie after she discovered Veronica's incestuous relationship with her younger brother. Susan protests, but they imprison her in Veronica's Room and the older couple call in the family doctor to declare her insane. The doctor arrives and bears an uncanny resemblance to Larry.

The Charity Night (the Mayor's Civic evening) is on Monday 14th January. The Mayor is supporting 2 charities during his year in office:
Yeovil Hospital Charity, the Children's Ward. Funds raised will support a Play Leader to co-ordinate activities and engage with the children to create a positive environment enabling them to take their minds off medical procedures and recover more quickly.
Yeovil Freewheelers. These provide emergency motorcycle courier services to the NHS. Volunteers made over 1000 deliveries in 2017 carrying blood, pathology samples, medicines, documents, scans and equipment to hospitals, nursing homes and patients across Somerset & Dorset both saving the NHS money and helping to save lives.