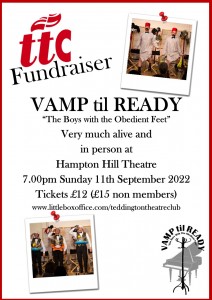 Teddington Theatre Club Fundraising event
VAMP til READY
"The Boys with the Obedient Feet"
Very much alive and in person at Hampton Hill Theatre
7.00pm Sunday 11th September 2022
Tickets £12 (£15 non members)
Vamp til Ready is a five man and one woman novelty cabaret group specialising in raising funds for charity —for one night only—they will be helping TTC raise funds to cover the replacement of the chairs in the Coward Studio.
The Vamps' repertoire consists of songs selected from West End and Broadway musicals, numbers composed by Duke Ellington, Flanders and Swann, Noel Coward, Cole Porter, Gershwin, Richard Strauss and other material too eccentric to be classified.
To find out more about Vamp til Ready visit their website at www.vamptr.fun.