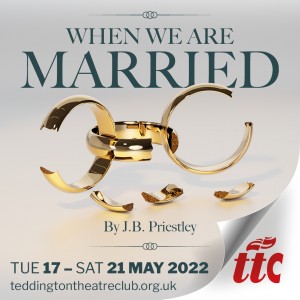 By J.B. Priestley
Three Marriages, Three anniversaries. Three revelations.
Tue 17 May - Sat 21 May 2022
Nightly Performances at 7.45pm
Tickets  £15 plus fee  Members tickets £12 plus fee - 
why not join us?
Three Yorkshire couples, old friends and all married on the same day, gather to celebrate their silver anniversary. When they discover they are not legally married, each couple initially reacts with proper Victorian horror – what will the neighbours think? – and all three couples find themselves re-evaluating their marriages. Hovering over these dramatic revelations is the local paper's drunken photographer, keen to record the evening's events for posterity, and a wickedly destructive housekeeper hoping to use the couples' embarrassment to her own advantage. A timeless classic comedy masterpiece by JB Priestley.
This amateur production is presented by arrangement with Concord Theatricals Ltd. 
MEMBERS - Remember to use the unique show code for your reduced ticket price.