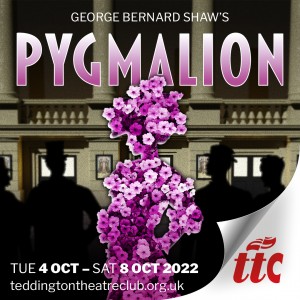 By George Bernard Shaw  Directed by Roger Smith
How can you turn a common flower seller into a duchess?
Tue 4 Oct to Sat 8 Oct 2022.
Main Auditorium, Hampton Hill Theatre.
Performances Nightly at 7.45pm.
Phonetic scientist Professor Henry Higgins is challenged to teach humble flower girl Eliza Doolittle to speak and conduct herself so that within 6 months she can pass unchallenged as a duchess at an ambassador's garden party. One of George Bernard Shaw's most famous comedies, Pygmalion explores that particularly English obsession of judging someone's level in society by the way they speak. Although written over 100 years ago, it looks at class distinctions and the way men regard women.
The humour is still relevant today despite the changing attitudes of society in the 21st century.  It reflects Shaw's own opinions that everyone is equal and should be treated in that way which was quite revolutionary at the time. Today, the play is probably better known as the basis for the musical "My Fair Lady" but the original is just as humorous and entertaining despite lacking the odd dance routine.  
Members do not forget to enter your booking code for this show - not a member -
why not join
to receive discounted tickets?