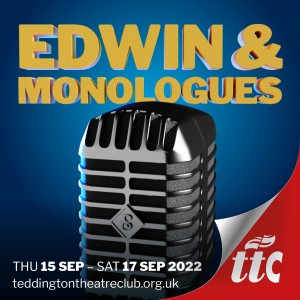 Thu 15 Sep - Sat 17 Sep 2022
Edwin by John Mortimer

The Monologues 
    The Dark side of footlights by Ben Francis 
    About blooming time by Vaughan Evans


Performances nightly at 7.45pm

This production is in our Studio Theatre with unallocated seating. Sorry but late comers cannot be admitted.

 


Edwin by John Mortimer

Edwin is a delightfully witty, quintessentially English comedy, first broadcast on BBC Radio and will be presented here as a radio play.
It's penned by John Mortimer, creator of the immortal Rumpole of the Bailey. The central character in Edwin is likewise an indomitable legal man, although in this case a retired judge: Sir Fennimore Truscott. The play takes place in his garden at Gallows Corner in Suffolk. Truscott and his wife Margaret are awaiting the arrival for lunch of 'the prodigal son', their only child, Edwin, a high-flying businessman, recently returned from Canada. Making up the party is their neighbour, the bachelor potter Tom Marjoriebanks. Truscott suspects that Edwin is actually Tom's son, as a result of his rival having 'rogered' Margaret in the conservatory many summers ago. Tom likes to think so too, and the pair of old stags lock horns, both claiming Edwin (whom we never meet) as their own. It is left to Margaret, once Edwin has departed, to enlighten them with the truth.
This amateur production is presented by arrangement with Concord Theatricals Ltd. on behalf of Samuel French Ltd. www.concordtheatricals.co.uk

The Monologues 


The Dark Side of the Footlights by Ben Francis 
Theatre critic Judith's wide ranging musings about famous actor/ director David Rayburn.  She likes to claim that she kick-started his career in the early days, and wonders why he never acknowledged it.  And what is the nature of their relationship now? 

About Blooming Time! by Vaughan Evans 
A colourful account of life in a plant nursery. Which are the most beautiful flowers and which have the highest status? Moonfire reveals all.


Members do not forget to enter your booking code for this show - not a member - why not join to receive discounted tickets?