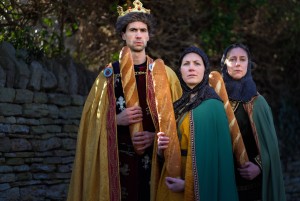 King Arthur
21st July, 4.30pm
A fun and farcical two-hour (incl interval) family adventure directed by John Nicholson and written by Tiff Woodsmith.

Somewhere in Britain, a long time ago, a very, very, very long time ago. So long ago that nobody quite knows whether it happened or not. Or where it happened or not.
A boy pulled a sword from a stone and became King. A story of the old world, with knights, wizards, mist and magic.
This fun and farcical adventure is a deliberately anarchic and anachronistic re-telling of the Arthurian Legend with live music, physical comedy and lo-fi acrobatics. And some silly jokes…

The Last Baguette makes entertaining, accessible and eccentric work for family audiences and are company in residence at Pound Arts, Corsham. The Last Baguette was formed from a shared love of theatre, bakery and humour in Paris by graduates of the Philippe Gaulier and Jacques Lecoq schools. 

"The show was a real joy...delicious twinkle-in-the-eye humour to engage, entertain and delight people of all ages." Richard Wolfenden-Brown, Director at The Plough Arts Centre

Tickets are £12 per person or £40 for a family of 4.
GATES OPEN FROM 3.30PM FOR A 4.30PM PERFORMANCE. Please do not arrive before 3.30pm.
Don't forget to bring your own chair and a picnic to enjoy at our outdoor theatre. This event takes place in front of The Arches.
Please take a look at the 'Your Visit' section on our website to find out what to expect and what to bring with you.
Refunds are only given if a performance is cancelled. The shows will go on at The Arches Theatre whatever the weather. The decision to cancel a performance due to the weather is made at our discretion.