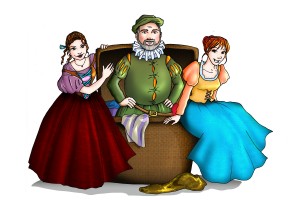 The Merry Wives Of Windsor
27th & 28th August, 3.00pm 
 
By Shakespeare directed by Andrew Hobbs
The Merry Wives Of Windsor is a hilarious romp which sees the women of Windsor gain the upper hand in a bawdy battle of the sexes with the drunken knight Sir John Falstaff. This classic farce is guaranteed to make for an unforgettable evening of laughter enjoying outdoor theatre at its very best.
Since 1999, British Touring Shakespeare have delighted audiences all around the world with critically acclaimed productions that are fresh, energetic and accessible.
In 2020, they were one of the first theatre companies to stage live performances during the recovery from the pandemic at socially distanced outdoor venues with their outstanding tour of The Two Gentlemen Of Verona, and they continued to do so last year with both their hilarious production of Twelfth Night and an innovative adaptation of the classic Sherlock Holmes mystery The Hound Of The Baskervilles which toured the UK to great popular and critical acclaim.
With this year's tour of The Merry Wives Of Windsor and Dracula, they are delighted to once again help ensure that the magic of open air theatre is a British tradition that people can continue to enjoy.
"To be honest, in an ideal world, Shakespeare probably IS better when performed outdoors. And in an ideal world it would always be performed by British Touring Shakespeare." – Dave Evans, Remote Goat

Tickets are £15 per person



GATES OPEN FROM 1.30PM FOR A 3.00PM PERFORMANCE. Please do not arrive before 1.30pm.





Don't forget to bring your own chair and a picnic to enjoy at our outdoor theatre.





Please take a look at the 'Your Visit' section on our website to find out what to expect and what to bring with you.





Refunds are only given if a performance is cancelled. The shows will go on at The Arches Theatre whatever the weather. The decision to cancel a performance due to the weather is made at our discretion.