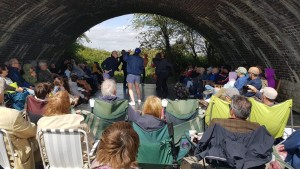 Love's Labour's Lost 
20th August, 2pm and 7pm
Come and celebrate The Wet Mariner's 10th anniversary with their ingenious revival performance of Love's Labour's Lost. This was the very first production by The Wet Mariners in 2012 when they had freshly graduated from LAMDA.   
See them revive this play in the only way they know how – with fun, energy and much laughter!
After vowing to avoid women and commit to a life of self-improvement for three years, the King of Navarre and three of his friends - Berowne, Dumaine and Longaville - have to host a princess and her three ladies. The four men fall in love and decide to court the women. In the end, the women must return to their kingdom for a year after which they will marry the king and his friends, providing they remain true to them.
Love's Labour's Lost is a comedy about young love, with an unexpected ending.
Tickets are £15 per person.
GATES OPEN FROM 12.30PM FOR A 2.00PM PERFORMANCE and 5.30PM FOR A 7PM PERFORMANCE. Please do not arrive before the gate opening time.Don't forget to bring your own chair and a picnic to enjoy at our outdoor theatre. Please take a look at the 'Your Visit' section on our website to find out what to expect and what to bring with you.Refunds are only given if a performance is cancelled. The shows will go on at The Arches Theatre whatever the weather. The decision to cancel a performance due to the weather is made at our discretion.