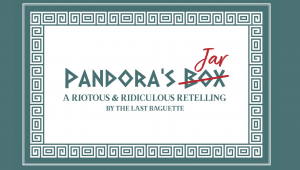 Pandora's Box Jar - A riotous & ridiculous retelling by The Last Baguette
19th August, 6pm
Written by Sunday Times award-winning playwright Tiff Woodsmith & directed by Susana Alcantud 
Ever wondered what's in the box? The one on the top shelf? Why is it there? Why were you told not to look it in? Could it really be so bad?
With a plethora of costume changes, a pantheon of Gods and a prohibited peek into a pithos, The Last Baguette retell the preposterous and problematic story of Pandora.
A gallop through Greek mythology featuring goofy gods, hilarious heroines & daft deities. Join the Baguettes as they lift the lid on this classic myth with physical comedy, visual storytelling, live music, un-Apollo-getically bad puns and lo-fi special effects.
The Last Baguette theatre company makes entertaining, accessible and eccentric work for family audiences, and is resident company at Pound Arts, Corsham.
2 hours runnng time including a short interval
A show for anyone aged 6 to 126 who's ever asked why
GATES OPEN 1.5 HOURS BEFORE THE SHOW. 
This performance takes place on the grassland
Don't forget to bring your own chair and a picnic to enjoy at our outdoor theatre.
Please take a look at the 'Your Visit' section on our website to find out what to expect and what to bring with you.
Refunds are only given if a performance is cancelled. The shows will go on at The Arches Theatre whatever the weather. The decision to cancel a performance due to the weather is made at our discretion.