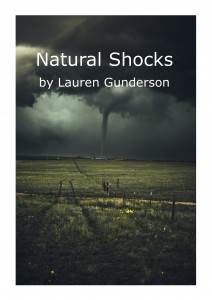 Black Box Theatre presents Lauren Gunderson's play "Natural Shocks." Based on Hamlet's "To be or not to be," Natural Shocks is one act, tour-de-force that bursts to life when we meet a woman waiting out an imminent tornado in her basement. Angela, our fast-talking heroine, overflows with quirks, stories, and a final secret that puts the reality of guns in America in your very lap. The play is part confessional, part stand up, and part reckoning. The play deals with a difficult topic, and is not recommended for young children.
The play's production team includes: Director and Light Design by Roger Pavey, Jr.; Stage Manager and Assistant Light Design: Celeaciya Olvera; Production Designer (Scenic/Costumes): Lora Adams; Scenic Build: Michael Kopriva, and Sound Designer: Ryan J. Hurdle.
The cast includes Lora Adams, Trish Foster, Kira Rangel and Noel Jean Huntley.
The Black Box has produced several of Ms. Gunderson's pieces in the past including last year's "The Revolutionists," "I and You," and "Silent Sky." For the second year Gunderson is the most produced playwright in the country for 2022/2023 according to American Theatre Magazine.  

February 2nd - 11th 
Thursday - Saturday 7:30pm
Sunday - 2pm