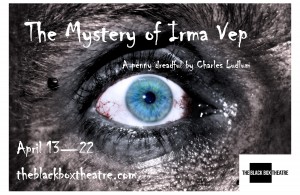 The Mystery of Irma Vep
Mandacrest Estate is the home of Lord Edgar, an Egyptologist, and Lady Enid. Lady Enid is Lord Edgar's second wife, though he has yet to recover entirely from the passing of his first wife, Irma Vep. The house staff, a maid named Jane Twisden and a swineherd named Nicodemus Underwood, have their own opinions of Lady Enid.
Enid is attacked by a vampire, and Edgar seeks answers in an Egyptian tomb, briefly resurrecting the mummy of an Egyptian princess. Returning home with the sarcophagus, Edgar prepares to hunt down the werewolf he blames for the death of his son and first wife.
April 13 - 22  Shows are Thursday, Friday, Saturday at 7:30 pm, Sunday at 2:00 pm