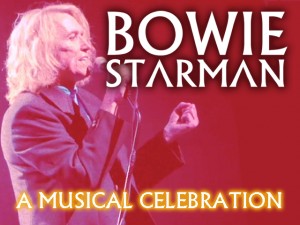 PLEASE NOTE THIS CONCERT HAS BEEN POSTPONED TO 28th MARCH 2020

Postponed from Saturday 18th May 2019 - New date 28th March 2020
Tickets
£25.50 plus booking fee
Please note from 25th February tickets are available via Quay Tickets only, follow the link on www.theedgewigan.com website. This does not affect tickets sold prior to 25th February.
Bowie Starman is a David Bowie group that travels throughout the UK and Worldwide, playing high-calibre shows that delight audiences. All of your favourite David Bowie songs are performed by this talented group, who use more than 30 years of performing experience to offer a night of unforgettable entertainment.
Packed with songs from all eras of Bowie's celebrated career, from "Rebel Rebel" and "China Girl" to "Let's Dance", "Young Americans", "Ashes to Ashes", and "Life on Mars". If you only get to see one David Bowie show this year, make sure it is Bowie Starman.