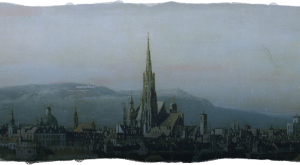 Friday 21 and Saturday 22 February 2020 - 6.30pm
In a beautifully ornate Porchester Hall, we'll in part recreate the first concert that Beethoven gave for his own benefit in Vienna, which featured a symphony from Mozart and - crucially - Beethoven's own 1st Symphony. Come and relive the experience of the audience over 200 years ago as they witnessed a Beethoven symphony for the first time (only better, because we'll have cocktails!)
Event times
6.30pm - Arrive & unwind
7.45pm - Last admission
8pm - Concert
c.10pm - Soirée
11.45pm - Last orders
Arrive and let the stresses of your week wash away with a drink (perhaps a cocktail...) from our bar and a bite to eat from our themed pop-up food menu (more details nearer the time). Pre-concert drinks are available to purchase until 7.45pm and can be enjoyed during the performance. The bar reopens afterwards, with last orders at 11.45pm.
We want to create a beautiful, intimate atmosphere so in order to ensure a good experience for everyone the doors will be closing at 7.45pm. Please make sure you allow plenty of time to arrive. The doors will reopen at the end of the concert.
Food & Drink
A signature part of the evening is our bespoke food offering* and themed cocktail bar. Food will be available to buy on the night, or in advance with a 15% online discount.
Having grown up in the sleepy surroundings of Bonn, Beethoven faced a number of changes when he made the move to Vienna. A melting pot of cultures spanning much of Europe, the food on offer would have been far more varied than the provincial cuisine he was used to! We have explored a variety of dishes that Beethoven may have discovered in his new home when designing the menu for our first full-scale event of the year.
Paul and Sam from Mix & Match were equally intrigued by the cosmopolitan Viennese lifestyle when coming up with their bespoke drinks menu. Whilst Beethoven probably didn't head to a cocktail bar after an evening's work at the piano, we think these concoctions may have been favourites of his had he had the opportunity…
 
*Veggie, vegan and gluten-free options available
Dress code
Come as you feel comfortable
Age limit
18+
Tickets
Front Cushions: £25 - Saturday SOLD OUT
If you fancy being really close to the action and like to recline while you listen, grab a floor cushion - they're right at the front, as close to the orchestra as you can get (without playing in it...)
Standard Seat: £30 - Saturday SOLD OUT
Back Row Sofa Seat (available in pairs) - Both days SOLD OUT
To be added to the waiting list please email info@thelittleorchestra.com.
Ticket price includes entry for the whole evening and an unallocated seat, cushion, or sofa (depending on ticket type) for the concert.