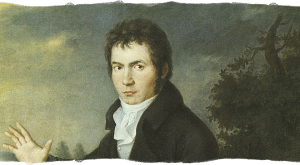 Explore some hidden masters...
For the adventurous among you, we invite you to explore uncharted territory and dive into some of the lesser-known Beethoven symphonies. From the early promise shown in the 2nd, via the 4th written as a commission for a wealthy patron, to the beautifully optimistic 8th symphony, this is the package best suited to those looking for something a little different.
Event times
6.30pm - Arrive & unwind
7.45pm - Last admission
8pm - Concert
c.10pm - Soirée
11.45pm - Last orders
Arrive and let the stresses of your week wash away with a drink (perhaps a cocktail...) from our fully stocked bar and a bite to eat from our themed pop-up food menu (more details nearer the time). Pre-concert drinks are available to purchase until 7.45pm and can be enjoyed during the concert. The bar reopens afterwards, with last orders at 11.45pm.
We want to create a beautiful, intimate atmosphere for the concert so in order to ensure a good experience for everyone the doors will be closing at 7.45pm. Please make sure you allow plenty of time to arrive. The doors will reopen at the end of the concert.
Food & Drink
A signature part of the evening is our bespoke food offering* and themed cocktail bar. Food will be available to buy on the night, or in advance with a 15% online discount.

*Veggie, vegan and gluten-free options available
Dress code
Come as you feel comfortable
Age limit
18+
Book