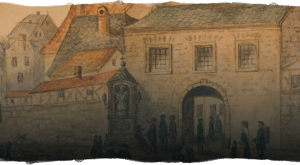 Friday 24 and Saturday 25 January 2020
- 6.30pm
Born in the sleepy but quietly progressive town of Bonn, Beethoven's alcoholic father (himself a mediocre musician) saw in his son a potential child genius in the same vein as Mozart, and put a young Beethoven under immense pressure in his musical studies. As he grew, Beethoven was forced to take on more responsibility for his family as the head of the family descended further and further into drunkenness, whilst at the same time being shaped by his first real teacher, Christian Gottlob Neefe, in both his music and wider beliefs.
Join us in the newly re-opened Battersea Arts Centre as we look at how these (often traumatic) early years moulded the man who created some of the greatest music ever written. With a mixture of pieces from his key influences Bach and Mozart, as well as some of Beethoven's own early compositions, our first-ever chamber event will give you everything you need to get started on your own Beethoven discovery, in a beautifully intimate and relaxed environment.
Event times
6.30pm - Arrive & unwind
7.45pm - Last admission
8pm - Concert
c.10pm - Soirée
11.45pm - Last orders
Arrive and let the stresses of your week wash away with a drink (perhaps a cocktail...) from our bar and a bite to eat from our themed pop-up food menu (more details nearer the time). Pre-concert drinks are available to purchase until 7.45pm and can be enjoyed during the performance. The bar reopens afterwards, with last orders at 11.45pm.
We want to create a beautiful, intimate atmosphere so in order to ensure a good experience for everyone the doors will be closing at 7.45pm. Please make sure you allow plenty of time to arrive. The doors will reopen at the end of the concert.
Food & Drink
A signature part of the evening is our bespoke food offering* and themed cocktail bar. Food will be available to buy on the night, or in advance with a 15% online discount.
Beethoven's grandfather was, in his time, the most important musician in the city of Bonn. He also ran a successful side business selling Rhineland wine back to his native Belgium, and this certainly had implications on the Beethoven family – for better or worse! For our opening event of 2020, Paul and Sam at Mix & Match will be sourcing some fantastic wines from the Rhineland region, alongside some incredible cocktails that young Beethoven may have found enticing…
Unlike the cosmopolitan culinary landscape Beethoven would later discover in Vienna, the food of his childhood was very much rooted in Rhenish German tradition. Our chefs have dug into the history of food from this period and their menu takes inspiration from some of the region's traditional dishes.

*Veggie, vegan and gluten-free options available
Dress code
Come as you feel comfortable
Age limit
18+
Tickets
Front Cushions: £25
If you fancy being really close to the action and like to recline while you listen, grab a floor cushion - they're right at the front, as close to the orchestra as you can get (without playing in it...)
Early Bird discounted tickets are available at £20
Standard Seat: £30
Early Bird discounted tickets are available at £25
Back Row Sofa Seat (available in pairs): £45 per person
To enjoy the concert in luxurious comfort, go for a sofa - the most private seats in the house, and great sound to boot.
Early Bird discounted tickets are available at £40
Ticket price includes entry for the whole evening and an unallocated seat, cushion, or sofa (depending on ticket type) for the concert.