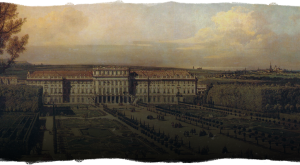 Friday 15 and Saturday 16 May 2020
- 6.30pm
Porchester Hall's intricate opulence sets the scene to a story where talent and creativity often come into conflict with status and pride. We'll be presenting Beethoven's 4th Symphony - itself a commission that he wrote whilst pausing work on the 5th and 6th - alongside his 4th piano concerto (both pieces premiered together in the palace of Prince Lobkowitz, an important patron of Beethoven's).
Event times
6.30pm - Arrive & unwind
7.45pm - Last admission
8pm - Concert
c.10pm - Soirée
11.45pm - Last orders
Arrive and let the stresses of your week wash away with a drink (perhaps a cocktail...) from our bar and a bite to eat from our themed pop-up food menu (more details nearer the time). Pre-concert drinks are available to purchase until 7.45pm and can be enjoyed during the performance. The bar reopens afterwards, with last orders at 11.45pm.
We want to create a beautiful, intimate atmosphere so in order to ensure a good experience for everyone the doors will be closing at 7.45pm. Please make sure you allow plenty of time to arrive. The doors will reopen at the end of the concert.
Food & Drink
A signature part of the evening is our bespoke food offering* and themed cocktail bar. Food will be available to buy on the night, or in advance with a 15% online discount.
 
Beethoven once remarked that the Viennese would never revolt because they were far too fond of their "brown ale and little sausages" and wouldn't want to risk an upset to supplies. With his close ties to several of the richest families in the city, Beethoven would have experienced the very best food Vienna had to offer. For Chapter 4 we've created a beautiful menu that reflects the food Beethoven may have experienced in the palaces of his illustrious patrons.
Aside from brown ale, residences around Vienna would have no shortage of fine wines and spirits, giving Paul and Sam from Mix & Match plenty to work with when it comes to designing some bespoke cocktails fit for princes, dukes, archdukes and, of course, thirsty composers…

*Veggie, vegan and gluten-free options available
Dress code
Come as you feel comfortable
Age limit
18+
Tickets
Front Cushions: £25
If you fancy being really close to the action and like to recline while you listen, grab a floor cushion - they're right at the front, as close to the orchestra as you can get (without playing in it...)
Early Bird discounted tickets are available at £20
Standard Seat: £30
Early Bird discounted tickets are available at £25
Back Row Sofa Seat (available in pairs): £45 person
To enjoy the concert in luxurious comfort, go for a sofa - the most private seats in the house, and great sound to boot.
Early Bird discounted tickets are available at £40
Ticket price includes entry for the whole evening and an unallocated seat or sofa (depending on ticket type) for the concert.