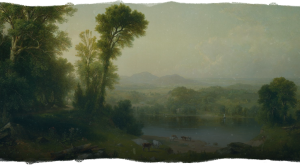 CANCELLED DUE TO CORONAVIRUS
Friday 17 and Saturday 18 July 2020
- 6.30pm
Nearly every summer of his adult life, Beethoven left Vienna for the more rural surrounding areas in search of peace, tranquillity and good health. His 'Pastoral' Symphony no 6 encompasses his love of the natural world, with each section portraying a different country scene.
Join us at the beautiful Battersea Arts Centre where we will explore this unique and incredibly visual piece of music, Beethoven's reason for writing it, and the pictures he paints in each of its contrasting sections. Alongside this we will be looking at some other beautiful examples of painting with music, including some lovely examples from Haydn's The Creation.
Event times
6.30pm - Arrive & unwind
7.45pm - Last admission
8pm - Concert
c.10pm - Soirée
11.45pm - Last orders
Arrive and let the stresses of your week wash away with a drink (perhaps a cocktail...) from our bar and a bite to eat from our themed pop-up food menu (more details nearer the time). Pre-concert drinks are available to purchase until 7.45pm and can be enjoyed during the performance. The bar reopens afterwards, with last orders at 11.45pm.
We want to create a beautiful, intimate atmosphere so in order to ensure a good experience for everyone the doors will be closing at 7.45pm. Please make sure you allow plenty of time to arrive. The doors will reopen at the end of the concert.
Food & Drink
A signature part of the evening is our bespoke food offering* and themed cocktail bar. Food will be available to buy on the night, or in advance with a 15% online discount.
 
Beethoven's 6th Symphony acted as a homage to his love of nature, so we're following the same trend with the menu! For this chapter, our culinary inspiration is the idyll of the countryside, with fresh, seasonal produce playing a huge part.
On the drinks front, Mix & Match's Paul and Sam will be keeping the focus on the many delicious drinks that can be made from fruit, and using their talents to combine these natural flavours in fresh and exciting drinks fit for any country gathering.

*Veggie, vegan and gluten-free options available
Dress code
Come as you feel comfortable
Age limit
18+
Tickets
Front Cushions: £25
If you fancy being really close to the action and like to recline while you listen, grab a floor cushion - they're right at the front, as close to the orchestra as you can get (without playing in it...)
Early Bird discounted tickets are available at £20
Standard Seat: £30
Early Bird discounted tickets are available at £25
Back Row Sofa Seat (available in pairs): £45 per person
To enjoy the concert in luxurious comfort, go for a sofa - the most private seats in the house, and great sound to boot.
Early Bird discounted tickets are available at £40
Ticket price includes entry for the whole evening and an unallocated seat, cushion, or sofa (depending on ticket type) for the concert.