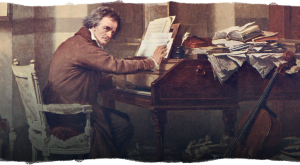 Friday 13 and Saturday 14 November 2020
- 6.30pm
Finally accepting that he was unlikely to find true love, Beethoven became absorbed in issues that often took him away from his music. A bitter custody battle with his newly widowed sister-in-law over his nephew became a dangerous obsession for him, financial troubles reached their peak, and his health continued its steady decline. However, in his final years, Beethoven also produced some of his most philosophical, joyous and progressive work.
We return to Battersea Arts Centre in November for our second chamber event to hear one of the most beautiful piano sonatas Beethoven ever wrote, alongside an incredible string quartet, one of the last great works he wrote. Join us as we explore the final years of Beethoven, and how even as he faced his own mortality he continued to change the way we hear music today.
Event times
6.30pm - Arrive & unwind
7.45pm - Last admission
8pm - Concert
c.10pm - Soirée
11.45pm - Last orders
Arrive and let the stresses of your week wash away with a drink (perhaps a cocktail...) from our bar and a bite to eat from our themed pop-up food menu (more details nearer the time). Pre-concert drinks are available to purchase until 7.45pm and can be enjoyed during the performance. The bar reopens afterwards, with last orders at 11.45pm.
We want to create a beautiful, intimate atmosphere so in order to ensure a good experience for everyone the doors will be closing at 7.45pm. Please make sure you allow plenty of time to arrive. The doors will reopen at the end of the concert.
Food & Drink
A signature part of the evening is our bespoke food offering* and themed cocktail bar. Food will be available to buy on the night, or in advance with a 15% online discount.
 
When life gets tough, even the toughest of us seek comfort in great food and drink, and that is precisely what Beethoven did in the latter years of his life. With this in mind, our menu for this event is inspired by the foods we to turn to after a hard day. We may even include one of Beethoven's own favourites…
This idea is continued in our drinks menu, with Mix & Match crafting a series of delights to ease us into the weekend and help us put all our weekly stresses to bed.

*Veggie, vegan and gluten-free options available
 
Dress code
Come as you feel comfortable
Age limit
18+
Tickets
Front Cushions: £25
If you fancy being really close to the action and like to recline while you listen, grab a floor cushion - they're right at the front, as close to the orchestra as you can get (without playing in it...)
Early Bird discounted tickets are available at £20
Standard Seat: £30
Early Bird discounted tickets are available at £25
Back Row Sofa Seat (available in pairs): £45 per person
To enjoy the concert in luxurious comfort, go for a sofa - the most private seats in the house, and great sound to boot.
Early Bird discounted tickets are available at £40
Ticket price includes entry for the whole evening and an unallocated seat, cushion, or sofa (depending on ticket type) for the concert.