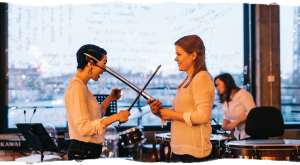 CANCELLED DUE TO CORONAVIRUS
Over the last week we have been keeping a close eye on the situation regarding the Coronavirus: looking at what actions other countries have been taking in response to it, considering the advice from the World Health Organization and other experts, as well as the UK government's current position.
In light of what we have learnt, I have, with regret, come to the conclusion that the only responsible course of action to take is to cancel our events this week. If you have tickets for either 19 March, we are happy to transfer these to another dress rehearsal later in the year (with the exception of Chapter 8 which is not yet on sale) – please let us know which date you would like to switch to. If you have tickets for the dress rehearsal on 19 March, we can transfer these to a dress rehearsal of your choice later in the year. If, on the other hand, you would prefer a refund please email info@thelittleorchestra.com and we will process this for you.
On a personal note, I was very much looking forward to sharing Beethoven's crisis of despair with you – a key moment in his troubled life – along with his feisty 2nd Symphony and his favourite Mozart piano concerto. I'm sorry we won't be able to explore this glorious music together on this occasion. However, life takes precedence, and Beethoven will be waiting for us on the other side of this crisis…
In the meantime, here is a little playlist of both these works to animate your day with a little fire and drama!
Keep well and look after each other.

Nicholas Little, Founder and Artistic Director
 
Thursday 19 March 2020 - 7pm
Join us at Battersea Arts Centre to sit in on our final rehearsal of Mozart's Piano Concerto no 20 and Beethoven's Symphony no 2. The performance will feature the same musical content as the full events - including the stories surrounding the pieces being played - with the same level of intimacy, but without the addition of set design or food and drink.
If you're yet to try out one of our events and are happy to join us on a school night, this is a great way to explore some incredible music. What's more, priced at just £5 it's probably the best value orchestral concert in town!
 
Times
6.30pm - Doors open
6.55pm - Last admission
7pm - Concert
c.9pm - Concert ends
Dress code
Come as you feel comfortable  
Age limit
14+
Tickets
General admission £5
All seating is unallocated