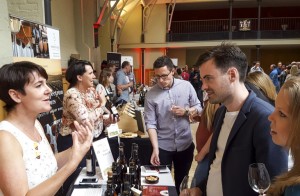 After the successes of Edinburgh, Bath, London and Leeds The Wine Gang are thrilled to be extending their not-to-be-missed Wine Festival tour to Birmingham.
This is a walk-around tasting with over 200 wines for our guests to choose from and the Wine Gang are on hand to guide you throughout the day. You can sign up for a Wine Walk or join a Pop-Up Presentation free of charge, or simply take the event at your own pace if you prefer. All samples are included in the ticket price. From Champagne to Bordeaux to the New World and emerging regions there are wines to suit every palate and every wallet.
We'll give you a glossy Tasting Brochure when you arrive packed with information and tasting notes for all the wines, to help you navigate your way around the exhibitors. You can even gen up in advance using the online exhibitor list.
The fabulous schedule of unmissable masterclasses have been launched and are suitable for all levels of wine knowledge. Pre-book in advance as they sell fast!

MASTERCLASSES - BIRMINGHAM

Sparkling Wines from Nyetimber - Jane Parkinson and the team from Nyetimber will be highlighting the quality of wines from England's best-known estate that has put English Sparkling Wine on the global map. With expert tuition from Jane Parkinson attendees will taste their way across the Nyetimber portfolio including their outstanding Blanc de Blancs from 3 different vintages. It's going to be an exceptional event. Don't miss it. Tickets £20

Wakefield of Australia - Wakefield Wines are flying over their Global Brand Ambassador, Cherry Stowman to lead this masterclass so you can discover why Wakefield Wines from the Clare Valley is recognised as the world's most awarded winery in 2017. This masterclass will take you on an exciting journey of wine discovery and give you the opportunity to taste Wakefield Wines house of brands that includes the premium 'Estate Label' Shiraz and Riesling, ultra-premium 'St Andrews' Shiraz and Cabernet Sauvignon as well as being treated to Wakefield's luxury wines 'The Visionary' Cabernet Sauvignon and 'The Pioneer' Shiraz. Book early as this Masterclass for wine lovers and connoisseurs will sell out quickly. Tickets £20.00

A Focus on Burgundy - Burgundy, USA and Italian specialist, Stannary St Wine Co. offers high class, progressive and authentic wines having a real understanding of vineyards and terroirs. Having recently won the IWC Burgundy Specialist of the Year for the 2nd time in five years, come and attend this unique Masterclass focusing on Burgundy with a mystery Californian wine. This is a golden period for Burgundy, with the quality of the wines at an all time high. Throughout this Masterclass presented by Joanna Simon, Stannary St Wine Co. would like to share this enthusiasm with you with seven wines to be blind tasted to support her arguments. Tickets £25.00
We'll see you there!
There will also be exclusive offers available on the day so that you can stock up your wine racks ready for winter, while making great savings. What's not to love?
And if you don't already know The Wine Gang please stop and have a chat with them on the day. Joanna Simon, Anthony Rose, Jane Parkinson and David Williams are four of the UKs best-known and best-loved wine critics. They'll happily point you in the direction of their favourite wines, answer questions, or pose for a selfie with you! #winegang17
Saturday 7th October 12-6pm

Tickets
Early Bird Entry £20. Standard Entry £25
NB. This event is for over 18's only