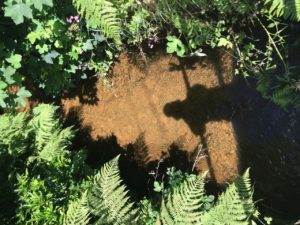 We'll take the rich ecology and post-industrial landscape of the Red River as the starting point for a creative-writing workshop exploring how writing in the landscape may disturb our words with its strangeness. Mixing poem examples, a touch of theory, and lots of observation, we'll explore how writing can entangle us in the life of the river. No writing experience necessary, but a willingness to try is essential.  
Led by the poet John Wedgwood Clarke, Senior Lecturer in the Creative Writing at the University of Exeter.  
Sunday 27th June 11am-3pm
Tickets £10   
Meet at the Croust Hut at Kind Edward Mine. Wellingtons and waterproofs essential.  
This creative writing workshop is part of the Red River project funded by the AHRC and Exeter University. To find out more, go to 
www.redriverpoetry.com.